Lands & Natural Resources Minister – Samuel Abu Jinapor – on a day's working visit to the Tarkwa Mine
Wednesday, 23 March 2022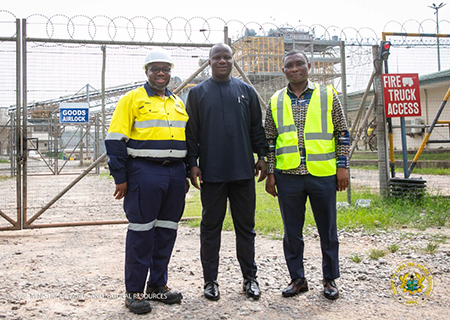 The Minister has thanked Gold Fields for contributing USD1M to the Appiatse Support Fund to support efforts to rebuild the community. He explained that the ministry will ensure all recommendations on health and safety are adhered to. The minister also commended Gold Fields for its commitment to safety and its CSR projects, particularly the construction of infrastructure such as the roads in operational communities, but asked for more support to work on roads within the townships.
Samuel Abu Jinapor also spoke about the Green Ghana Project and the intention to engage with the Ghana Chamber of Mines to ensure the involvement of mining companies to work towards planting more trees and vegetative cover to support the project. He noted the work Gold Fields has done in this regard, and the rehabilitation of land through its environmental management programme. He wants Ghana to be seen as a country contributing to the global fight against climate change.
Government has a vision to develop Ghana into the mining hub of Africa with the development of the full value chain, with all the linkages – exploration, mining, refining, downstream industry and a financial sector. The Minister has asked Gold Fields and other companies to partner government to make this a reality, as it provides an enabling environment for companies to thrive to attract more investment into the industry.
"Let's work together to build the mining industry in Ghana. Let's partner each other".
He says he is committed to working with Gold Fields for it to become the biggest mining company, not only in Africa but the world.
A presentation was done by Stephen Osei-Bempah, GM, Tarkwa Mine. He took the minster and his entourage through the GFs Purpose & Vision, infrastructure layout of the Tarkwa mine, operational areas, safety record, production and reserves & resources. He also touched on energy and carbon management, explaining that there are plans to upgrade the genser power plant, using Natural Gas, from the current single cycle plant into a combined cycle. This will increase the plants efficiency and further reduce the scope 2 emissions. With the possible opportunity to export to the National Grid.
The Tarkwa Mine GM spoke about gender diversity, rehabilitation, alternative livelihood programmes and cyanide and explosives management.
Stephen Osei-Bempah also spoke about a number of ongoing projects, such as the T&A Stadium, Huni Valley Sec. Sch. Girls dormitory and other legacy projects funded by the Gold Fields Ghana Foundation.
Back to previous page